Rafa Nadal has converted his training place into a high performance tennis centre. Together with his team, Rafa Nadal has created a unique training system, based on the experience acquired during all his years through the ATP circuit. This method includes the formation on values that, without a doubt, have been a fundamental element for the achievement of his triumphs.
Booking with
tennis-academies.com
us
Booking directly
with an academy
Comparison of multiple academies
Help with family style accommodation
English support 7 days a week on WhatsApp
* We have commission-based agreements with all partnering academies allowing us to offer the same prices. Our clients pay no extra fees for our services regarding tennis training programs.
The international tennis academy combines tennis and education, so that the students can continue their tennis career without sacrifice their academic studies. Rafa Nadal Academy (RNA) is very focused on children and young adults' formation, but it also counts with different training programs for adults, all them adapted to the level and needs of each player.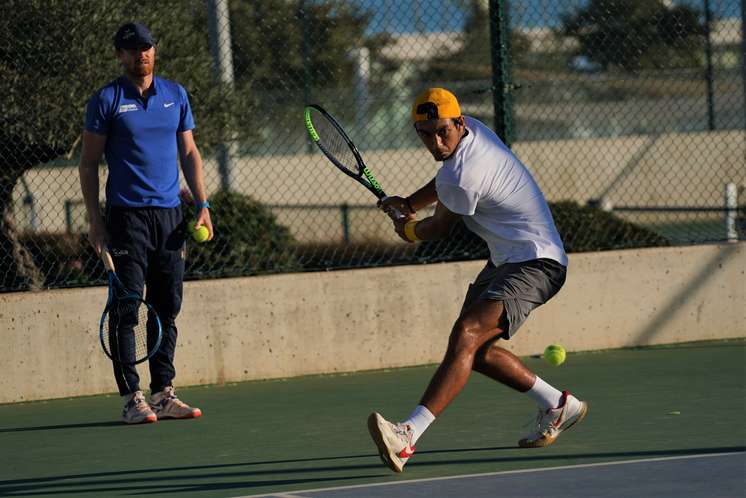 Daniel Rincon is one of the young talented players who trains in the academy.Source: Rafa Nadal Academy
Rafa Nadal Academy is located in Manacor (Mallorca, Spain), Rafa's home town. It has an ideal climate and environment to complement the physical activities along with great cuisine, culture and recreational activities Mallorca has to offer. The academy also have a perfect location on the island, just 30 minutes from Palma de Mallorca Airport and just 10 minutes away from the coast.
Facilities
Rafa Nadal Sports Centre has spaces dedicated to fitness training, physiotherapy, psychology, nutrition and sports medicine that will provide players with a comprehensive service. The complex has the following facilities:
23 hard court (19 outdoor and 4 indoor)

14 clay courts (7 outdoor and 7 covered)

12 paddle courts (6 indoor + 6 outdoor)

1 football pitch

2 squash courts

1 semi-Olympic swimming pool

1 outdoor swimming pool

Fitness Centre

Spa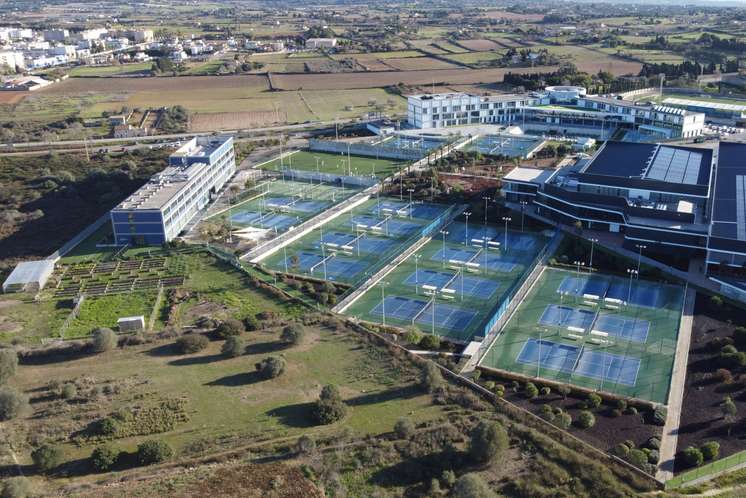 The facilities of the Rafa Nadal Academy are unparalelled - everything a modern tennis player needs.Source: Rafa Nadal Academy
Training method
Training system is regularly updated because the tennis industry is constantly changing with different materials and evolving training methods where we are seeing stronger, faster and more agile players than ever before on the professional circuit.
Emerging trends clearly show that the game of tennis is becoming progressively faster; points are shorter and the start of play (serve/return) has a huge influence on the subsequent development of the point. This means that players need to be prepared to make decisions in a shorter amount of time.
In RNA, coaches understand that modern tennis and tennis of the future is played first with the 'eyes', then with the 'mind', next with the 'legs' and finally with the 'hands'. At the Academy we apply training systems geared in this direction, combining them with the skills that have brought success to Rafa throughout his professional career, such as mobility, a winning spirit, intensity (during training and competition), concentration and a competitive mentality.
Physical preparation
Tennis has evolved in many ways. A very important aspect has been the transformation of physical preparation and its growing importance in training and training of players, from an early age.
The physical preparation of the Academy will be organized on two pillars:
Coordination capacities

Injury prevention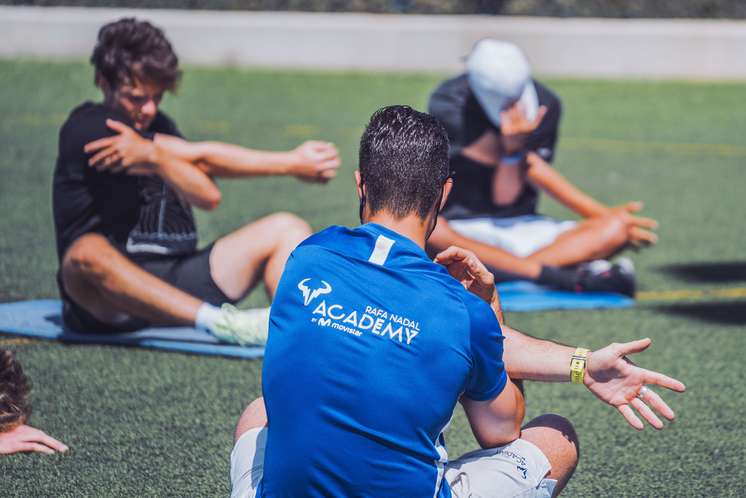 Stretching is one of the integral parts of each tennis training program.Source: Rafa Nadal Academy
To work on these aspects, the Academy has the latest technology in equipment and machinery physical training. Tennis is an asymmetrical and aggressive sport that causes imbalances between the muscles and joints. Preventive training, which seeks to minimize these risks, vertebrará on the following aspects: joint mobility exercises, stretching the muscles tend to shorten in order to ease tensions, strengthen the stabilizing muscles of the different joints of the body, including rotators and deep back muscles.
Mental strength
Mental strength is very important in overcoming adversity. It is one of the most worked aspects at the Academy. Exercises are carried out on and off-court, with the aim of developing the psychological skills of the athlete, enhancing not only their tennis performance but also their ability to perform in other areas of life. The ability to make quick decisions, think under pressure, and know when to pause and when to act, are important qualities both in sport and in everyday life.
Available programs
Rafa Nadal Academy offers a variety of tennis programs and camps for children throughout the whole season.
Short-term tennis programs (shared room with full-board)
Same attention to everyone
"Technology, analysis, bio-mechanics, they are all important, but in the end what always makes the difference is people," says Toni Nadal, the Head Coach of the academy. "We have many good coaches here. That is our strength, along with the passion that we have for our work."
He also stresses that the academy aims to provide a memorable experience for all its students. "We try to give the same attention to everyone, not just the best players. We want everyone who has been at the academy to be happy that they spent a couple of years here. When I was coaching at a small club in Manacor, practising with Rafael was very important for me, but the other kids there were just as important. It's the same here at the academy."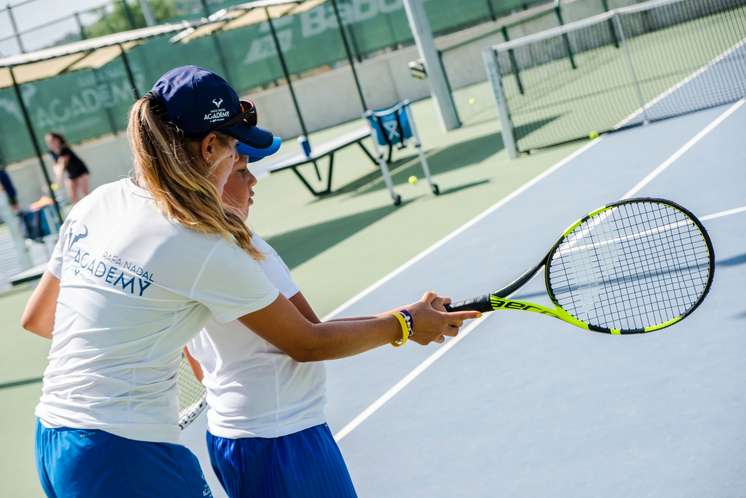 "Same attention to everyone", this is an approach taken from Toni Nadal.Source: Rafa Nadal Academy
If you have any questions regarding the tennis programs in JC Ferrero Equelite Sport Academy, please don't hesitate to contact us at info@tennis-academies.com. We will be happy to help you :-)

tennis-academies.com
Tell me your story
Every tennis player and every family has different needs for training or accommodation. Tell me your tennis story and I will prepare a tailor-made package for you.
Get customized offer