A tennis academy needs many factors to be successful- the right location, modern and comprehensive facilities and a vision for its players' futures. In addition, and perhaps most importantly, is the know-how of its coaching team and support staff. There are few academies who have more know-how than the man behind the Juan Carlos Fererro Equelite Sport Academy, the former ATP world No.1 and Grand slam champion himself.
Booking with
tennis-academies.com
us
Booking directly
with an academy
Comparison of multiple academies
Help with family style accommodation
English support 7 days a week on WhatsApp
* We have commission-based agreements with all partnering academies allowing us to offer the same prices. Our clients pay no extra fees for our services regarding tennis training programs.
The Equelite academy is set in tranquil gardens, close to mountains, thirty minutes north east of Alicante and an hour drive south west of the Spanish port city Valencia. The weather in that region is mild to hot with little rain and is perfect for year round training.
Facilities
The academy, which was set up in 1990, features cutting edge facilities. The academy has:
10 clay courts, with 1 playsight court (smart court).

7 hard courts with 1 playsight court.

1 indoor hard court.

1 Central hard court.

1 grass court.
The academy is particularly committed to innovation and using the latest technology to help players achieve their goals.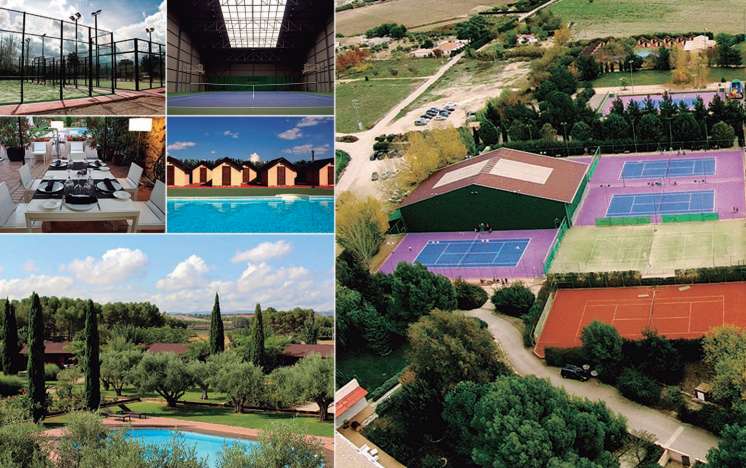 Modern tennis facilities in tranquil gardens.Source: JC Ferrero Equelite Sport Academy
Equelite also has a gym, a running track, a soccer field, padel courts, 2 swimming pools and a physiotherapy clinic. As well as these, there is a hotel, a school, a TV room, restaurant, a player lounge and player accommodation.
The touch of a champion
The academy has the location, climate, history, and it also has that essential know-how, and very experienced and informed knowledge, too- former ATP No.1 and Roland Garros champion Juan Carlos Ferrero runs the academy.
Ferrero graduated himself from the academy and went on to become a world No.1, a slam champion and winner of 16 titles. Ferrero also reached the US Open finals and the ATP World Tour Finals championship match. If the sign of an academy's success is the players it develops, then Equelite is one very successful academy.
Ferrero now runs the academy and enjoys his role there. Ferrero says:
"Running the academy means a lot. I started here as a kid and growing here while the academy grows as well. I had created a strong bond with it. In the end, I decided to build my house at the academy and keep working on it. Nowadays I live here with my family and I can know all our annual players and support them and the staff. It's incredible how the small house with just one court I started in has changed in dimensions but the feeling of being part of a big family that works together for good still remains."
Successful players
The Equelite family is a well known one to followers of the ATP tour. Players such as two time US Open semi-finalist Pablo Carreno Busta and Carlos Alcaraz Garfia train there.
Academy manager Inaki Etxegia says of the academy's recent success:
"In 2020 and up until the start of 2021, at least one player of the Academy won a Trophy along all the weeks in which our players compete. We won 59 Championships and 25 finals in total."
Carlos Alcaraz is an 18-year-old prodigy who broke into Top 50 at career-high No. 38 after US Open 2021 quertefinals, becoming highest-ranked player at his age since Rafael Nadal.

Carreño-Busta reached the semifinals of the US Open and Quarters of Roland Garros.

Mario Vilella qualified for the Australian Open Main draw and beat Basilashvili (n.39, ATP) in a warm up event.

Carlos Gimeno beat the ATP's 86th ranked player at the end of the year and reached the Semis and Quarters in different ATP Challenger tournaments.

In other categories we had ITF junior tournaments champions and finalist and champions at Spanish Official Championships (Meritxel Boix, U16 finalist of Spain; Rafael Segado Esteve, U14 champion of Spain).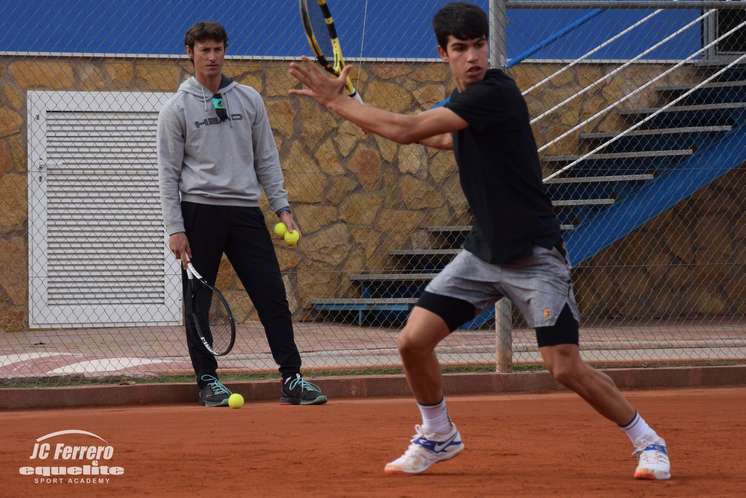 Juan Carlos Ferrero passing on his philosophy to Carlos Alcaraz.Source: JC Ferrero Equelite Sport Academy
The list of professional players that had previously practiced at the Academy is long and great. Among others: Maria Sharapova, David Ferrer, Dinara Safina and Nicolas Almagro have been at the academy for long periods.
The coaching team
Players at the academy are supported by a strong, experienced and established coaching team. These include:
Juan Carlos Ferrero (coach of Carlos Alcaraz)

Antonio M. Cascales (who led Juan Carlos Ferrero to No.1 in the ATP rankings),

Samuel López (coached Nicolas Almagro and Pablo Carreño leading them to the top 10)

Fran Martinez led Roberto Carballes to the Top 100, current coach of Carlos Gimeno and Emilio Nava)

Cesar Fabregas (coached Maria Teresa Torró Flor to WTA Top 50, current coach of Eva Guerrero)

Fran Penalva (Sport Manager of the academy)

Juanjo Moreno (the academy physio)

Alberto Lledo (Fitness coach of Carlos Alcaraz)
Juan Carlos Ferrero talks proudly about his team: "All our team has same philosophy and has gone through an internal coaching course. All of them prioritizes the player. They have great quality and good intentions to improve the players and they always work with the benefit of the players in mind."
Training programs
Training is from Monday to Saturday, and is 33 to 38 hours a week. Tennis, fitness and psychology lessons are all a part of this schedule. Unless there are tournaments or specific training requirements, Saturday afternoon and Sunday are for rest. Every player receives an assigned coach and a personalized training program. The day is divided into four training turns, two in the morning and two in the afternoon, and these are fitness or tennis. For students who are also studying, lessons take place before and after training.
Short-term tennis programs
Long-term tennis programs
Motivation and development
The academy provides objectives for students to keep them motivated. These objectives are reachable and constantly monitored. There is also a monthly evaluation which can result in prizes and recognition. For a player to develop, Ferrero says attitude is essential, both on and off court. According to Ferrero, it is important "how a player faces each day, with which purpose; if the player tries to give the maximum in all aspects of their lives." Ferrero also believes that "humility, positive attitude and hard-work would make anyone improve. There are many variants to take into account behind that but that's the most crucial part to ensure a good development" Equelite's students' progress is what Ferrero finds most rewarding about his role at the academy. "Realizing the great improvement in students' game and personality," says Ferrero, "is really great."
There are other rewards, too. Ferrero feels "that it is gratifying as well when a player that left some time ago comes back, maybe as a player to play some tournament, maybe just for a visit or sometimes even to do a coaching internship."
"Here, there are bonds that remain for a long time and that means a lot."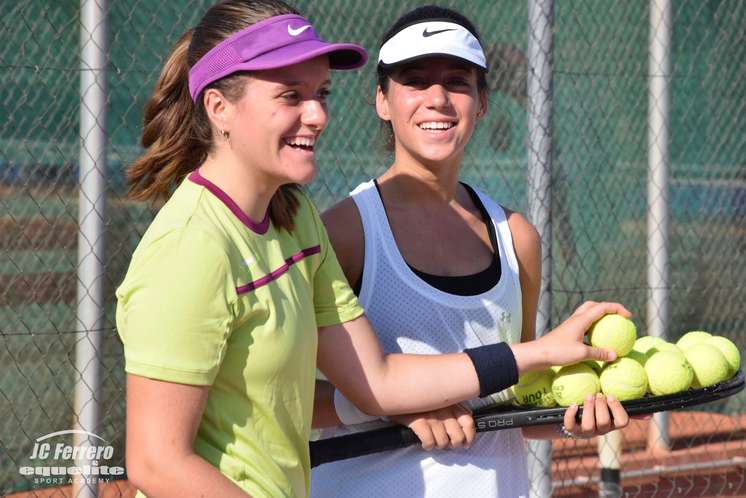 The bonds from the academy remain forever.Source: JC Ferrero Equelite Sport Academy
If you have any questions regarding the tennis programs in JC Ferrero Equelite Sport Academy, please don't hesitate to contact us at info@tennis-academies.com. We will be happy to help you :-)

tennis-academies.com
Tell me your story
Every tennis player and every family has different needs for training or accommodation. Tell me your tennis story and I will prepare a tailor-made package for you.
Get customized offer