The Pliskova Tennis Academy offers tennis players a unique opportunity to learn up close from former WTA No. 1 Karolina Pliskova in a tennis academy in Prague, which was voted the most beautiful city in the world in 2021.
Booking with
tennis-academies.com
us
Booking directly
with an academy
Comparison of multiple academies
Help with family style accommodation
English support 7 days a week on WhatsApp
* We have commission-based agreements with all partnering academies allowing us to offer the same prices. Our clients pay no extra fees for our services regarding tennis training programs.
The academy is located close to the city centre of Prague, the capital of the Czech Republic, in an easily accessible location by both private and public transportation.
The Czech Republic offers convenient access to other European countries for tournament play. There are also many tournaments hosted in the country itself.
As well as this convenience, players who train in the Czech Republic can benefit from the country's well developed tennis infrastructure. The Czech Republic has an illustrious tennis history and is one of the world's most successful tennis countries - just between 2011 and 2018, they won Davis Cup two times and Fed Cup unbelievable six times. Consequently, with so many role models such as Pliskova herself, tennis is a very popular sport with a world class infrastructure which offers players great tennis facilities and great coaches.
History of the academy
Karolina Pliskova, her twin sister Kristyna, and their team had the idea to start an academy which would serve many purposes. This academy would both be a center for player development and a place Karolina could use as a base where she could train with fellow professionals.
The team already knew of a club in the perfect location and, in July 2020, the academy was set up.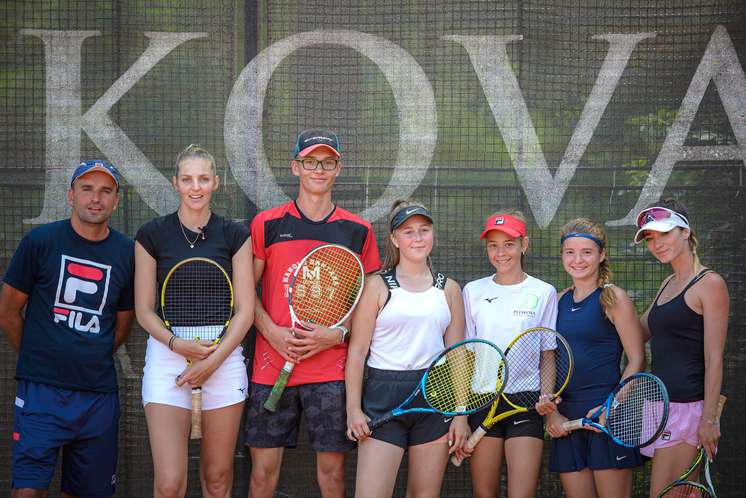 The team behind Pliskova Tennis Academy with its young tennis players.Source: Pliskova Tennis Academy
Ondrej Dohnal, a member of Karolina Pliskova's coaching team, was appointed the Head Coach at the academy. Dohnal also helped guide Katerina Siniakova to become an accomplished player, reaching the No.1 doubles ranking. In addition, Dohnal has experience with high achieving ATP and junior players during his thirty plus years working as a Head Coach.
Facilities
The academy has 5 clay courts, 2 indoor courts, and a mini court. There are also gym facilities, a restaurant and a football field, which can be used for other sports. In 2022, the academy will be expanded by another 8 indoor courts. 15 outdoor court and accommodation in a new complex.
Players motivation
The club has a great reputation for its juniors, who are some of the best in the region.
Juniors at the academy are, according to Dohnal, mainly motivated by the presence of Pliskova and by being so close to her. "They look up to her," says Dohnal, "and for many of them, she is their idol".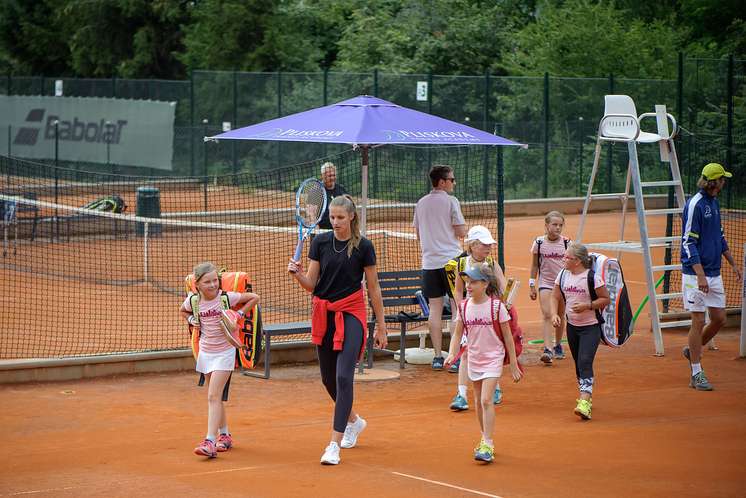 Karolina Pliskova inspiring the new generation of players.Source: Pliskova Tennis Academy
Pliskova is very involved with the academy and plays there every time she is back from tournaments . Once a year, the academy organizes for players to have "A day with Pliskova". On this day, they can observe her practice, learn about her nutrition and hit with her tennis coach.
Junior development and programs
The Pliskova Tennis Academy aims to develop its players through one of its key values - communication. Juniors are taught to communicate with their coaches to develop a close relationship between both sides which is crucial for the next development of the player. Coaches and players spend a lot of time together at the academy. Dohnal believes that coaching and player development is "a process that goes beyond the lesson times". Coaches travel with their players, practice with them and observe them in match play.
Another area of development the academy caters for is the mental game. The academy aims to offer its players high level mentality coaching and to run these sessions at Summer camps.
The most respected Czech mental coach Marian Jelínek, who works not only with tennis players, but also athletes from other sports such as ice hockey player and NHL legend Jaromír Jágr.Source: Pliskova Tennis Academy
Programs for players
Besides junior players pursuing professional careers, the academy also trains adult and junior recreational players and ATP and WTA professionals.
Therefore every level of play and age group is represented at the academy and many of its players are the best in the region. This means there is always a suitable sparring partner for every player and coaches can call someone to be at the club in less than an hour.
The strength of the academy is evident in team tennis where their players of all ages compete in the top-flight leagues in the Czech Republic.
Short-term tennis programs
Family atmosphere
The academy frequently brings its players together to enjoy the club's family atmosphere. For example, at Christmas they all get together in the club and exchange presents. Also, twice a year, they host a tennis camp abroad in Marbella in Spain which players and their parents attend. These trips have been very popular and more will be hosted in future.
Head Coach Ondrej Dohnal believes that players, their parents and their coaches work together to achieve success, and the academy's family atmosphere facilitates their will to progress as a team.
This camaraderie is what drives Dohnal to "cooperate with the team and come up with better and better ways to improve the players and the academy."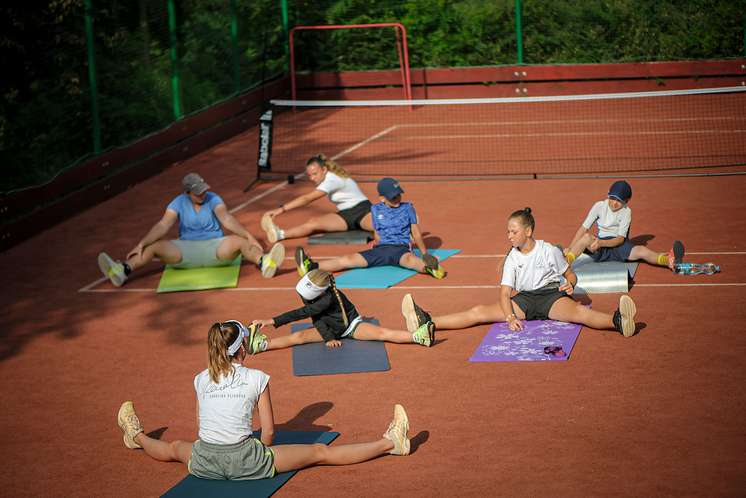 Friendship between the players and the coaching team is an essential part of the academy's approach.Source: Pliskova Tennis Academy
If you have any questions regarding tennis programs in Pliskova Tennis Academy, please don't hesitate to contact us at info@tennis-academies.com. We will be happy to help you :-)

tennis-academies.com
Tell me your story
Every tennis player and every family has different needs for training or accommodation. Tell me your tennis story and I will prepare a tailor-made package for you.
Get customized offer