The Barcelona Tennis Academy offers its students a family atmosphere, a personal approach inspired by the academy director's own experience as a junior player, comprehensive and modern facilities and a beautiful beachside location.
Booking with
tennis-academies.com
us
Booking directly
with an academy
Comparison of multiple academies
Help with family style accommodation
English support 7 days a week on WhatsApp
* We have commission-based agreements with all partnering academies allowing us to offer the same prices. Our clients pay no extra fees for our services regarding tennis training programs.
The academy is in Castelldefels, a suburb to the southwest of Barcelona, and a 45-minute drive to Barcelona city center. The academy is just a 15-minute walk to the sandy five-kilometer long Castelldefels beach. That beach is used by the academy in fitness sessions and helps players with their all round court coverage.
Barcelona is also a sports capital of Europe and watersports and skiing are also possibilities for players to engage with. The academy is also next to the Olympic canoeing area.
Accommodation and facilities
Juniors stay with Spanish host families who live near the club and provide a second home for the players. BTA carefully chooses each host family so that players can experience what it is like to live in Barcelona as well as improve their language skills. It is one of the reasons that trainees return to the academy repeatedly and feel like they are really at home. There are also plenty of quality hotels nearby.
The academy has: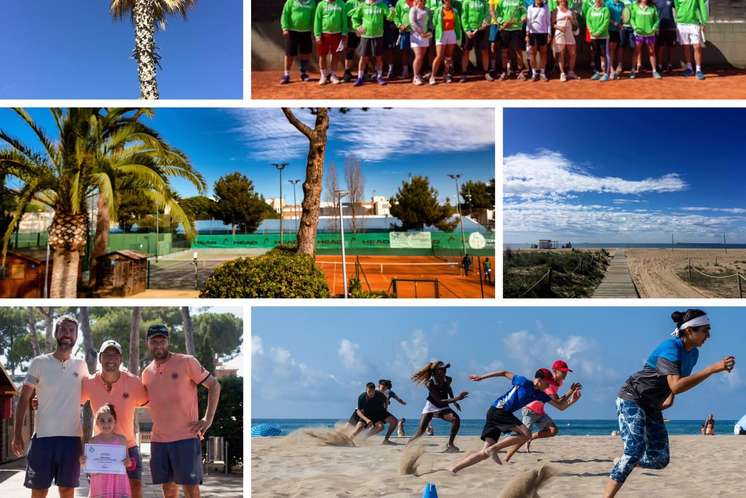 Sunny weather, training on beach and family atmosphere, that it what you can expect from BTA.Source: Barcelona Tennis Academy
History
The academy was founded by Raphael Maurier. Raphael was born in Switzerland and was a strong junior player and no. 2 player in his country. After his junior days, he played college tennis in the U.S and became a coach. Later, he travelled with kids to tournaments which led him to Hong Kong working for the Hong Kong Tennis Association and setting up an academy there. Then, he moved to Barcelona where he founded the Barcelona Tennis Academy six years ago.
Raphael decided to focus on coaching and running an academy because of his own personal experience with coaches as a junior. Raphael felt that, during his junior days, he could have benefited from a more personal approach from his coaches. Without a close relationship to his coach and having his personal needs addressed, Raphael says that he lost confidence and almost 'forgot' how to play tennis, and that this was an experience he wanted to prevent other juniors from going through. Raphael felt that the best way to offer students that personal approach was to create a relatively small tennis academy where it was possible for players to become more familiar with their coaches and see them as a brother or father figure.
Raphael can also have more direct contact with all the students and their parents and make sure their personal needs are attended to. These relationships are a key part of academy life and continue long after players have moved on with their tennis careers.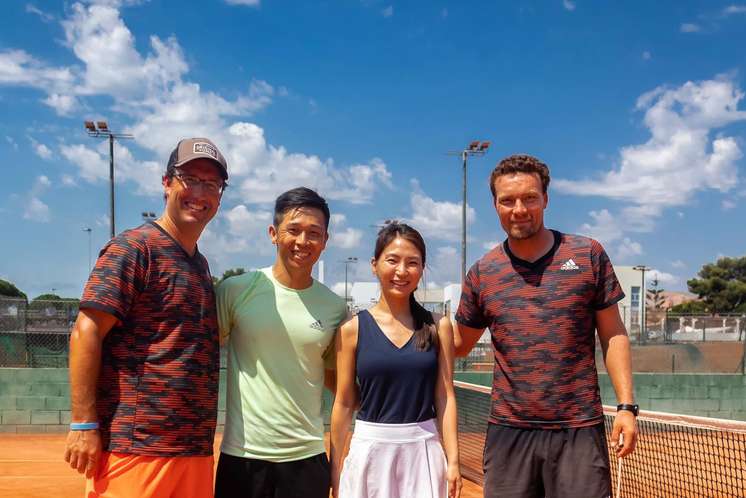 Coaches are very involved in the everyday life of the players.Source: Barcelona Tennis Academy
Raphael finds his job very rewarding. He likes seeing players grow and develop. He enjoys, he says, "seeing them happy with their performance, with smiles on their faces. Seeing them become adults, become better players; better people."
Coaching team
Raphael works with a strong team of coaches who have all been there for the past five years. Coaches are experienced and come from the ATP and colleges. The academy's fitness director, Sergi Valldaura, worked with tennis professionals such as Svetlana Kusnetsova and Flavia Pennetta. He also has worked with Marcel Grannollers since 2009.
Raphael has known the academy's psychologist, Oriol Mercade, since college. Oriol played tennis from the age of six to nineteen, also trained as an ironman and has a history of working with successful juniors such as Alvaro Lopez, one of the 2015 boys' Roland Garros champions, and also with Olympians.
Player development
Academy students are mainly made up of:
Good national players who are aiming to play college tennis or compete at tournaments, for example junior slams.

Players who come for a year of intensive training.

Players who repeatedly come for short term training. The academy is part of their development and the academy stays connected to the players' academies back home.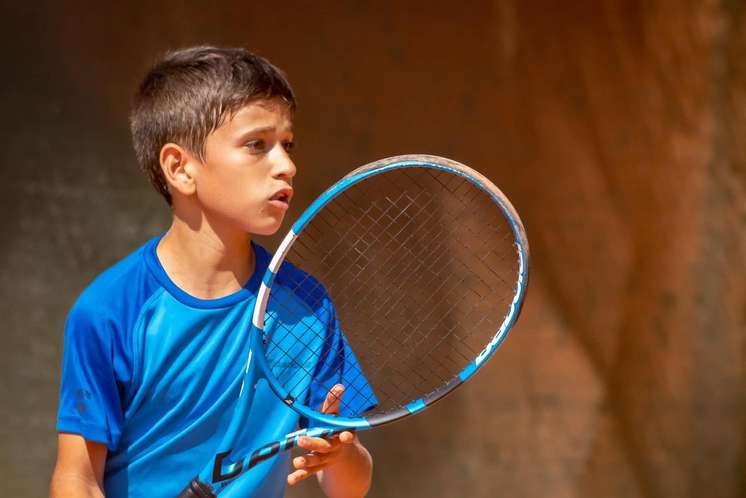 Little Rafa.Source: Barcelona Tennis Academy
The academy takes care of all the different areas a player needs to develop. The academy works on the technical side of players. "Without technique", says Raphael, "a player is limited". The different physical needs of players are also taken care of , too. As for the mental side, a psychologist comes twice a week.
The No 1 priority for all players when it comes to their physical development is no injuries. Diet and sleep play an integral part in recovery and injury prevention. Regarding fitness, the nearby beach is a great training place. According to Raphel, "players who move well on the sand, move well on the court". Players go to the beach once or twice a week, depending on the time of year.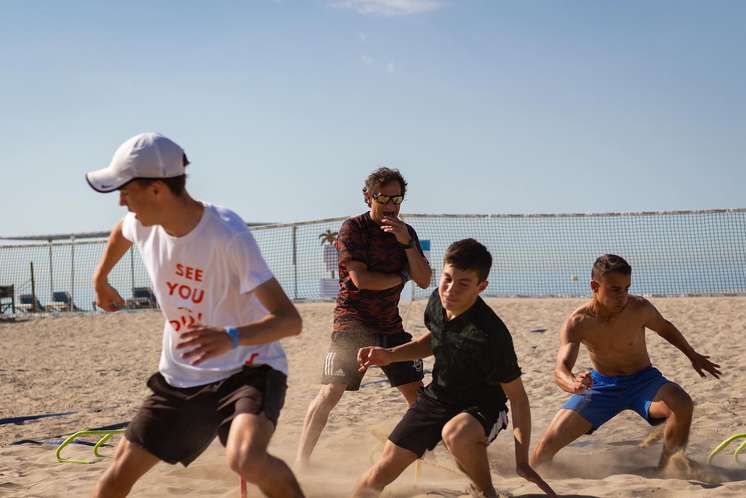 Beach training to improve coordination is an integral part of programs..Source: Barcelona Tennis Academy
As for the gym, there is an outdoor gym and ninety percent of work is done with players' own body weight.
Overall, when it comes to player development, the most important role of the academy is to develop players both as a tennis player and a person. Raphael believes that the tools they learn in sports can also help them grow as people. "Players need to understand fair play, patience, confidence, and decision making," says Raphael. "Tennis is an individual sport. On court, the kid is on his own and must adapt to situations. These skills can help the player in their life outside of tennis."
One area in which tennis can help players who may decide not to pursue the career of a professional tennis player is in future employment. Raphael believes that a company is more likely to hire an athlete because they know that these candidates understand hard work, discipline, and patience.
Available programs
Short-term tennis programs
Long-term tennis programs
Player motivation
"All types of players come to the academy. One was a 23 year old who just finished college. He came from New York to the academy because he wanted to finally beat his brother. He trained for six weeks and then, when he went home, achieved his goal.", mentions Raphael. It is these kinds of stories that happen at the BTA and make the coaches proud of their work.
Because tennis is very repetitive, it needs to be kept interesting. One way is to play tournaments abroad. Another way is to make sure the players have fun. So, the academy hosts Ping pong tournaments and Barbeques. Wednesday afternoons are off. Kids should live life as kids and that is how Barcelona Tennis Academy treats them.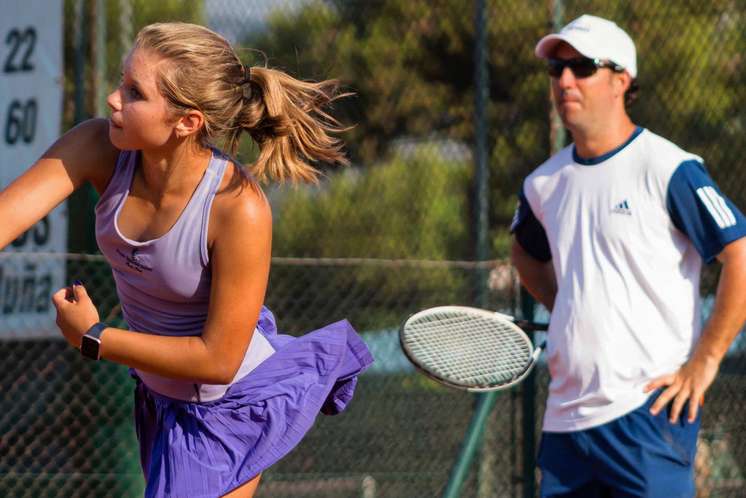 "Tennis is exciting, but kids should also live life as kids.", says Raphael Maurer.Source: Barcelona Tennis Academy
If you have any questions regarding the programs in Barcelona Tennis Academy, please don't hesitate to contact us at info@tennis-academies.com. We will be happy to help you :-)

tennis-academies.com
Tell me your story
Every tennis player and every family has different needs for training or accommodation. Tell me your tennis story and I will prepare a tailor-made package for you.
Get customized offer