5 December 2022
During our visit in the Nargiso Tennis Academy we met with Massimiliano Ballotta, the father of 14 year old Nicole who is training here part-time around 10 weeks a year. Max shared with us how appreciative he is of Diego Nargiso's tennis knowledge, technical competence and the chemistry between the coaches and players in his academy. Plan A? "The purpose is professional career", says Max.
Stan: Okay, so here we are with Massimiliano, the father of Nicole, who's training with Nargiso Tennis Academy here in Italy. So I wanted to ask a couple of questions about his experience and how he got to this place. So, hello Massimiliano.
Massimiliano: Hello.
Stan: It was nice to meet you here and just tell us how you met with Diego Nargiso and his team and how you got to training here?
Massimiliano: Likewise, it is nice to meet you. Basically we met with Nargiso at the Tennis Club that we stay in most of the time in Bologna, Italy. He had an exchange program with his Academy in my Tennis Club and I really liked the way he was operating. And I talked to him and we discussed "Can I come over to your Academy?" and that's how we started about 3 and a half years ago. Of course I knew of Diego as a player. I mean, he's a little bit younger than me, he's an Italian legend and he is a TV commentator. I always appreciated his view of tennis and I felt very confident and we started and it took off very well. And Nicole loves him, which is very important and so do I. And that's how we started.
Stan: Okay, so Nicole is now 14 years old?
Massimiliano: Nicole is now 14 years old. We come to the Academy about 10 weeks per year because we live in different places and so we cannot be here full time. So what we usually do is, we come for a week and then for the next month and half I train my... I'm also a tennis instructor, so I train my daughter with the same program we agreed with Diego and then we come back, we reassess and we move on step by step like this.
Stan: Ok so you are here full time coach and then here you are, you have the support of another coach who has a big experience?
Massimiliano: Yes, because Diego, of course, he's been there, done that. He was an ATP player for many years. He trained the professional players. Both WTA and the ATP. And so of course, he has seen it all and he knows how to build up a professional player. So that's why we're here.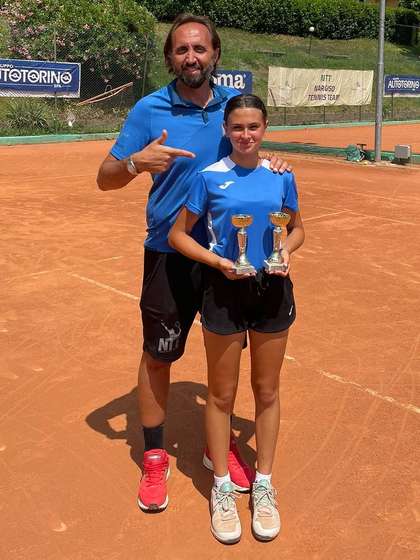 Diego Nargiso is helping Nicole to achieve her dream of a professional career on the WTA Tour. Source: Nargiso Tennis Academy
Stan: Ok. And what about your goals with Nicole? Do you go step by step or are you already dreaming about Wimbledon and something like that?
Massimiliano: No, of course we go step by step because it's good to have a cautious approach, but the purpose is professional [career], so we aim to try a professional career and we will see where it goes, but at the minimum I would say another option would be American University for example, where she could play in a university team we if we don't achieve the WTA. But let's Plan B. Plan A is really to try to make it there, step by step, it is very early. Only 14 years old is way too early to speak about this, yes.
Stan: Okay, and you mentioned it has clicked between Diego and his team and your daughter, Nicole. Above that, what you like about this place and about the team here. What do you appreciate the most?
Massimiliano: Well, many things. First of all, technical competence is very important. There is also a very good atmosphere. It is very friendly. You know, both the players and the coaches seem to have a very good chemistry, so it helps a lot because enthusiasm is a key word in tennis and also the location is very nice, so the combination is very satisfactory.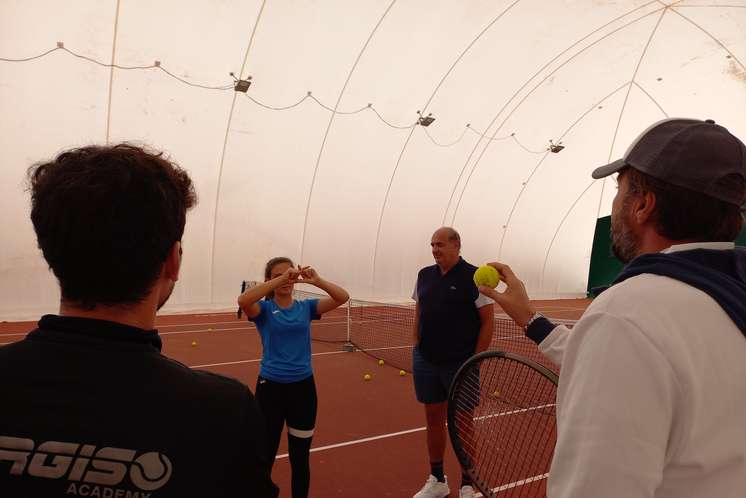 It's not only about tennis drills. Here Diego working with on coordination based on her dominant eye. Source: Nargiso Tennis Academy
Stan: Okay, thank you very much Massimiliano and good luck for your future adventurers in tennis, and I hope we see each other during the next week here in the academy.
Massimiliano: So do I.
Stan: Thank you very much.