25 August 2022
The wall in the corridor of a Kyiv apartment is destroyed. Cracked. Dejected. Fortunately, it wasn't Putin's missiles that did the damage. It was caused by fourteen-year-old Robert's tennis strokes and his passion. When the coronavirus pandemic imprisoned Robert Aparin Alaoui in quarantine last year and he was not allowed to go to the court, he at least hit the balls against the wall at home. "One day without tennis means disaster for him," says his mother, Nadia, a French teacher, in English.
Original article was published in Czech language on iDnes.cz/SPORT.
He stands behind the scenes of the hall at the Invalidovna in Prague and talks in a singing voice. He is going through a terrible time. However, even after depressing sentences, he often laughs. She describes, for example, how she was worried about her husband, lawyer Igor, who was late following his closest relatives from Ukraine to the Czech Republic.
"He drove alone from Luck, so I tell him: Don't fall asleep! And he reassured me: Don't worry, I'm taking your mom's cats. They won't let me sleep. They're going to drive me crazy!"
Or he explains why he's not standing by the court right now, where his son is honing his strokes with a coach from the Pliskova Tennis Academy.
"Robert is unnerved by my presence, so I'm forbidden to look at him! During matches, I try to find some loophole to watch him, but he usually senses it somehow and starts looking around for where I'm hiding.'
Robert is shy. A black-haired, slim boy in a black T-shirt and black shorts looks scared among strangers. He apologizes for the interview. He doesn't even want to talk to reporters from iDNES Premium in Ukrainian. Naturally, we do not insist.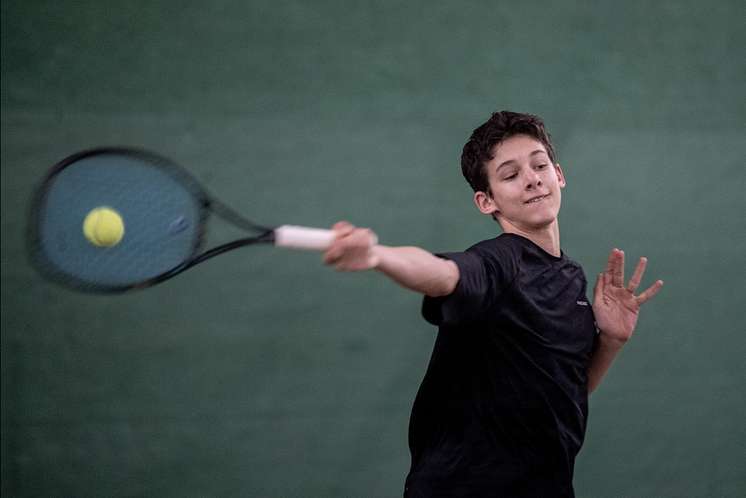 Robert hitting forehands in one of his first training lessons in Prague. Source: iDnes.cz
However, whenever his mother tries to give him advice on how to deal with exchange situations, she retorts: "If you're so smart, try it yourself!"
Gasoline for children's savings
Mrs. Nadia now lives in a two-room hotel apartment with her mother, husband, son Robert, daughter Erika (13) and the aforementioned two cats. He thanks the Czech benefactors and apologizes for the worries and expenses incurred by their escape from Russian barbarism.
She never thought that one morning she would be woken up by a phone call from her mother in Lutsk: "The war has started."
Fear. Urgent packing. A few pieces of clothing. Tennis bag. Some food and drink. Escape from Kiev on a congested highway.* "I found that I didn't have cash, so I couldn't fill up. There were terrible queues at ATMs. Fortunately, Erika and Robert took their savings, so I was able to pay for the gas thanks to them."*
They plowed through the 130-kilometer section in the direction of Zhytomyr for nine hours. They were frightened by the moving tanks. Not long after they crossed the bridge near Stoyanka, the Ukrainians blew it up in order to make it difficult for the enemy to advance to Kiev.
Weary days in Luck followed. Sleepless nights, alarms, survival, shock, hopelessness, rage at the Russian tyrant. "I felt like a zombie. Neither alive nor dead," described Nadia Alaoui.
Then she took her cell phone, came across tennis-academies.com on the Internet and wrote what happened.
She cheered when Stan, the founder of the portal, which otherwise provides young players and their parents with training programs in European tennis academies, answered.
The event started, during which Stan teamed up with Ondřej Dohnal, the director of the Pliskova Tennis Academy. With the contribution of Karolína and Kristýna sisters, they arranged free training for Robert, as well as accommodation and meals for the family.
Thanks to Stan's intervention, Robert and Nadia arrived well and safe to the Pliskova Tennis Academy. Source: iDnes.cz
"Ondřej even wanted to move out and accommodate them at his home, so I intervened and arranged a hotel," says Kristýna Plíšková. Watching the news from Ukraine makes her feel anxious.
She helps those in need in various ways, even in her eighth month of pregnancy she came twice to watch Robert's training, which Mrs. Naďa greatly appreciates: "She offered to call us if we needed anything."
One would say: dull pounding on a yellow balloon. However, tennis played a magical role in the story of Robert and his relatives.
Prague? Aren't you crazy?
Nadia Alaoui continues to teach while staying in Prague. Anyone in Ukraine can join her online classes. He sends his entire salary to the army. He still remembers the first time five-year-old Robert saw a plastic rocket in a shop window.
"You have a ball, you can play football!" she wandered into him.
But the boy was not fooled. He got his way. And he never gave up his passion. He often played broadcasts of ATP and WTA events on the TV in the living room. He joined school and youth teams in Kyiv, Kharkiv, Lviv and Irpina.
"He plays well for what he's been through," praised Kristýna Plíšková.
"At first he was a little unsure in an unfamiliar environment, but he is gradually improving. He feels the best on the court, he forgets all his troubles. We will try to arrange a start for him in some tournament," says Stan.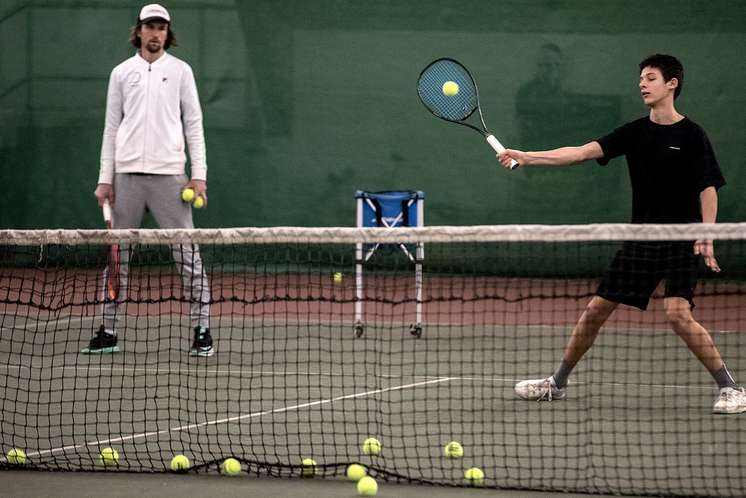 Robert is adapting quickly to his new training environment. Source: iDnes.cz
He surprised Robert's mother with his message at the beginning of March. But she made up her mind immediately.
We are going.
"Everyone wondered where we were going. They asked me: Aren't you crazy? Are you sure you are doing well? And I answered: Yes, I am. Everything will be fine... I'm just like that, I trust people."
After twenty-five hours of driving, they arrived in Prague. Until now, they still do not fully understand what is happening in their homeland. They have no idea what awaits them.
"I don't know at all why they attacked us," wonders Nadia Alaoui. "I never had a problem with Russians. It was normal for one person to speak Ukrainian and the other Russian in a conversation. We understand."
"We don't have all the connections yet. We don't realize, for example, that we may never be able to return home. We don't know if our apartment will exist.'
Robert's tennis also keeps the family in at least somewhat normal operation. "I'm glad that thanks to sports people from Ukraine can get to safety," says Stan. "We received calls from other applicants for help. They headed to Spain, Slovakia or France. So hopefully these sad stories will come to a happy end in an unfortunate time."
Source: www.idnes.cz/sport/tenis/robert-aparin-alaoui-ukrajina-utek-pribeh-utociste-praha.A220325_195848_tenis_ten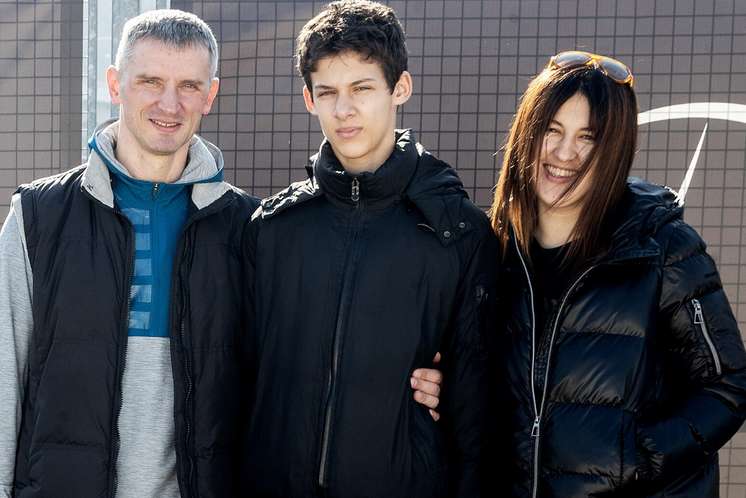 The whole family is grateful for the chance in the Czech Republic, but they sincerely hope that they will be able to return to their homeland. To Ukraine. Source: iDnes.cz