20 July 2022
After helping with the organization of the Fed Cup Finals, I started to look for another tennis challenge and I wasn´t aiming anywhere lower than to the ATP Tour. I believed I could make use of my experience even abroad in an unknown environment, a bit out of my comfort zone. From January 2016 I was working full-time in one marketing agency in Prague totally outside of sports sector so I wanted to liven up a bit my year with something more of action. I have never been good at just sitting in the office in front of the computer and that´s why I love sports events, all the time on the move.
I was aware of the fact that it would be hard for me as a foreigner to get a paid job with my limited time options, therefore I tried to search for volunteer openings. I shortlisted all the European ATP (and also WTA) tournaments which were easily reachable from Prague. Then I looked at the official websites of these events in order to find any mentions about volunteering. I wrote messages to a relatively high amount of accountable people but at the first moment, the results weren´t spectacular at all even though I tuned in my "tennis" CV and motivational letters. I didn´t get any response from several tournaments, from others I was informed that their recruitment had finished by that time or they weren´t in favor of having volunteers from abroad. I kind of expected that but didn´t want to give up so early. I was patient and when I got my first approval message from Båstad, I agreed to come as a volunteer to the Skistar Swedish Open in July. To go there was a no-brainer for me even though I didn´t have a clue how would I deal with only 4 weeks of vacations per year in my (former) job. The problem was that I had already spent a few days skiing in the Alps and for the end of the summer I had bought flight tickets to Canada which would swallow almost all of the vacation days left.
With a simple calculation, I realized that I had exactly zero vacation days left in my 2016 calendar. There is always a way, I said to myself almost neglecting this "little" problem of mine and my mind was already juggling with the idea of being next to the Swedish clay courts. I was lucky that I could make a compromise with my employee and took 2 non-paid vacation days and promised to work on another 3 days during Czech bank holidays in autumn. Maybe it doesn´t look like a great deal but I took it since I was suddenly free to go. Instead of earning money in my daily job I exchanged few thousand Czech crowns for Swedish kronors and bought my flight ticket to Kobenhaven. The flight took only 2 hours and from there I went by train through a renowned Øresund bridge. It immediately reminded me of the popular TV series called Bron which I had been following just a few weeks before.
After my arrival in Båstad, I was pleasantly surprised by the tennis atmosphere in this small seaside city. Tennis proprieties were almost on every corner starting with a cart full of tennis balls in the supermarket followed by a restaurant named Centercourten. I was starving after being without food from my departure in Prague but unfortunately missed my first lunch with other volunteers, it was too late. I sat at stylish pizza bar next to the pier and ordered – not Margharita or Hawai – but pizza called "Topspin", I loved that.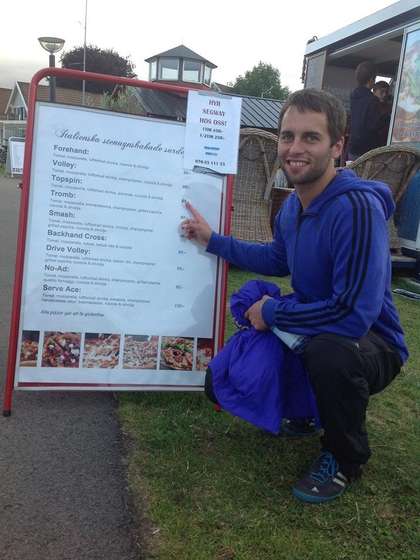 My favorite Topspin Pizza in Båstad :-)
And how did it go during my week of volunteering? I settled in the press center where I was immediately greeted by the leader of our team Christian and other colleagues. They had to get used to the fact that I didn´t know a word in Swedish, at least I learned "Tack!" which stands for thank you. I have to mention one of the colleagues Alex, who has a PhD. in psychology and vast experience from European universities. But most of all, I saw that he is mad about the game of tennis the same way I am and we became friends quite quickly. I don´t say that very often after having met someone just a few days ago but sometimes you feel the friendship clicks almost immediately. This is one of the best benefits of volunteering in general, you just never know who are you going to meet.
Tennis players were arriving, from the ones who are lower in the rankings to the top stars like Fernando Verdasco or David Ferrer. After a day or two, I saw the latter Spanish player who was supposed to be the tournament´s favorite, training on the side court so I immediately called Alex to have a look on him. David Ferrer was murmuring quite often between the rallies since he wasn´t satisfied with his game. He complained that he doesn´t feel the ball at all. I wish I could play 20% of his level when he feels under the weather, I thought to myself. Both I and Alex were sitting there fascinated by his footwork and groundstrokes, soaking up a seaside atmosphere of Båstad. After the training session we asked David for a photo – normally I am not in favor of selfies and I try to avoid this trend as much as possible but this time I just couldn´t help myself.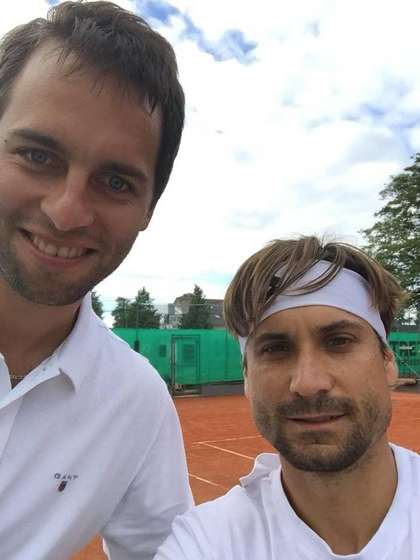 With David Ferrer, one of the best tennis grinders ever to play the game.
During the whole year, Båstad is a calm city with a population of just around 5 thousand people. But in the summer it wakes up for 3 tennis weeks, beginning with smaller Challenger tournament which is followed by ATP and WTA events. Surroundings of the tennis center and the adjacent pier is suddenly filled with people and the lively feeling continues into the late night. During the day people relax by the seaside and enjoy those Topspin or Smash pizzas and other treats from the bars and the lucky ones enjoy private parties in the yachts. When the night comes, almost everybody starts gathering around a club called Pepes Bodega – who wasn´t there, wasn´t in Båstad, locals say. For the whole week, I stayed in a small dormitory next to the football pitch just 10 minutes walk from the courts. My roommate was Evgenyi from Russia. We were the only two guys who came to volunteer from abroad but with all the colleagues treating both of us nicely, it wasn´t hard to fit in.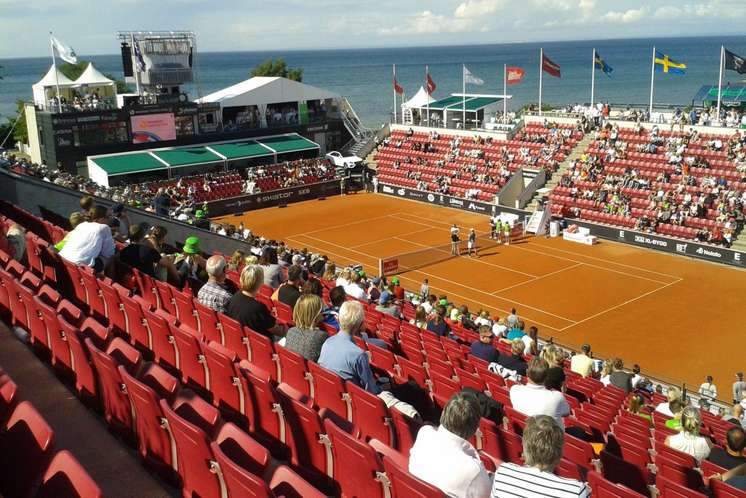 One must love those see views from the centre court stands.
My mornings aren´t usually the strongest part of the days as I am having a tough time getting up. In Båstad, however, I was looking forward to them as I could always enjoy a seaside walk towards the courts before the city woke up. This was also a nice place to go running to but I managed it only once or twice – after the whole day on my feet I was glad to sit for a while and just enjoy some refreshment. Once I set up a tennis match with one of my volunteer colleagues after I borrowed a Babolat racket, the same model I play with, from a cool journalist who I come along in the press center. There was also a daily morning schedule for volunteers and I joined it once for paddle-boarding which I had never tried before. It wasn´t that easy like it looked especially for the balance. Going forward was quite ok but when I was almost leaving calm waters of the pier and had to turn, I got myself in a trouble. The tide was getting higher and in one moment I almost jumped out. In the end, I didn´t have to be the only one swimming in the sea and went back safely.
The strongest experience for me came suddenly when going for a little trip around the tennis area. I was just leaving the hotel where the players stayed and where also the press center was placed. I stared in front of me and approaching was an elegant grey-haired man – no one else than Björn Borg! I immediately went to him and asked for a photo, he smiled like an old friend "Yeah, yeah" and grabbed me around my back. He was totally laid-back which kind of surprised me because I imagined him being more stoical. Considering how many photo and autograph requests he had to undergo during his life, I appreciated his immediacy.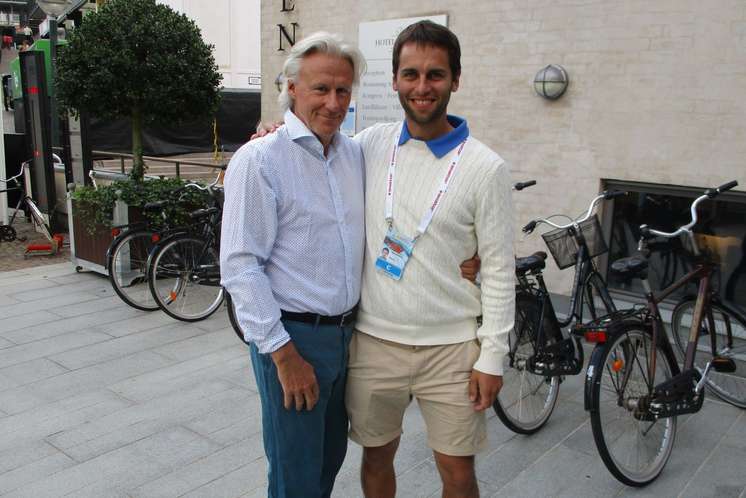 Probably the best moment of the whole stay was meeting up with legendary Björn Borg
Thanks to this moment and to an interesting working experience, I will always cherish the memory of Båstad. The only regret I had was that I couldn´t stay for another week. From the official photos, I noticed that even Peter Forsberg, my all-time favorite ice hockey player, came to watch the WTA tournament so I need to go there again in the future :-)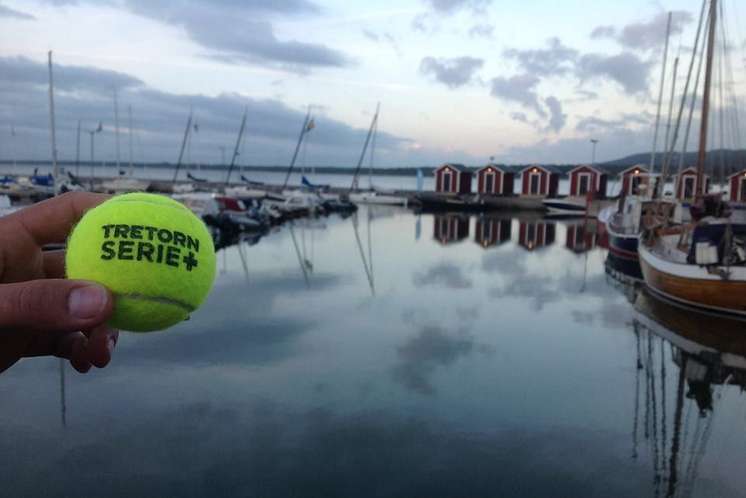 Hejdå hejdå Båstad!