30 May 2023
In an exclusive interview with tennis-academies.com, former professional tennis player and current coach, Ivan Ljubicic, opens up about his journey from war-torn Croatia to establishing his own successful tennis academy. With a career-high ranking of number three in the world and experience coaching players like Milos Raonic and Roger Federer, Ljubicic's name has become synonymous with excellence in the tennis world. His academy, nestled in Lošinj, offers a unique blend of rigorous training programs and a supportive environment for aspiring tennis players of all ages. Ljubicic shares his deep commitment to the sport and the joy he finds in nurturing the next generation of tennis talent. Discover what sets Ljubicic's academy apart and why he is driven by a genuine dislike for empty tennis courts.
Stan (tennis-academies.com): Hello, guys. Hello to all tennis players and parents. It gives me great pleasure to have Ivan Ljubicic here with me. We're in Lošinj at Ljubicic Tennis Academy, and it's truly a fantastic place. It's been a couple of days since we arrived, and time seems to fly differently here. That's the feeling I get.
Ivan Ljubicic: That's how it is. I think what sets this place apart is the peace we have here. We have numerous courts and fantastic weather, creating ideal conditions to enjoy and work hard on tennis. As you can see, the hotel is right behind us, so there's no wasted time in traffic or distractions. The results the kids have achieved while practicing here have been extremely positive during the year and a half we've been running this academy. For recreational tennis, people who come here can enjoy the sea, good food, and their tennis. We understand that it may not be the easiest place to reach, but investing a few extra hours to come to this beautiful place and have a great time is a fair trade-off.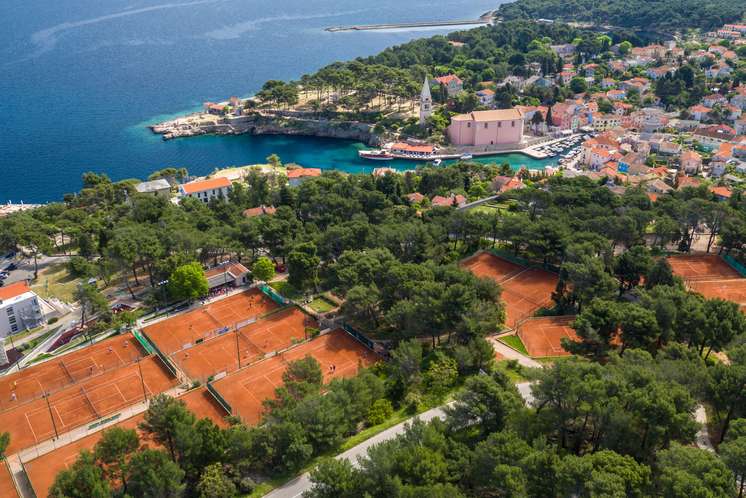 Ljubicic Tennis Academy located in a beatiful nature of Lošinj island, one of the Croatia's hidden gems.Source: Ljubicic Tennis Academy
Stan: You mentioned recreational players, but I can also see very talented pro players and juniors here. What kind of projects and programs do you have for them in the short and long term?
Ivan Ljubicic: Yes, we have our Academy programs that run from September to June, but basically year-round as July and August can be included as well. The kids stay in the hotel right behind us or in the apartments below, where they can stay with their parents, cook their meals, and enjoy their time as they please. We also offer weekly packages, so many players come here for 10-15 weeks a year, even if they're not based here. Additionally, we have players who come for a few weeks here and there. Most of the kids are highly competitive, and we've had many cases where players planned to stay for a week but ended up extending their stay to three or four weeks because once they're here, they want to make the most of their time and enjoy the experience.
Stan: I also noticed that you host competitive tournaments here, such as the Tennis Europe tournament for under 14. Can you tell us more about the tournaments organized at the Academy?
Ivan Ljubicic: Absolutely. We organize tournaments in various categories, ranging from under 14 to under 18 years old. We also have the European Championships for seniors, specifically for players aged 30 and over. We aim to host even more tournaments in the future. Additionally, we organize recreational amateur tournaments. With plenty of courts and opportunities, we want to make sure this place remains vibrant, even during the non-summer months. Summer is always busy here, but we want to create a tennis environment where people can come, play tennis, and be happy.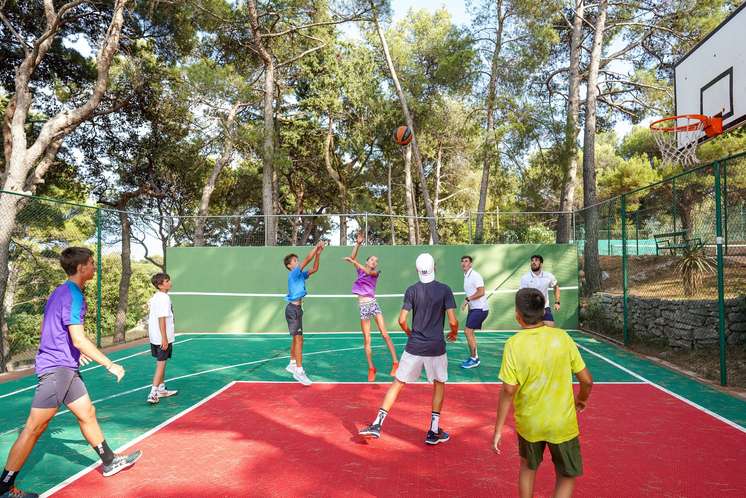 Young tennis players enjoying their time in the academy to the fullest.Source: Ljubicic Tennis Academy
Stan: That sounds great. What about the adult players? You have sophisticated programs for juniors, but what options are available for adults?
Ivan Ljubicic: We're starting with our adult program now. We haven't done it before. It's important for us to understand the adults' playing experience before they come here. We've had cases with kids who only played once a day or even less, and then they come here and want to play two sessions a day, which is our program, and it becomes too intense for them. We try to adjust and adapt the programs according to their needs, intensity, age, and goals. We offer group sessions as well as individual programs. Everyone is welcome to join.
Ivan Ljubicic: I noticed there's an amazing gym overlooking the sea, and the physios here are excellent. What other services are provided alongside the training programs?
Ivan Ljubicic: The gym you saw is specifically designed to meet the fitness needs of tennis players. We built it from scratch a few years ago, so it has everything required for a modern fitness program. We have one session of fitness training per day, along with two sessions of tennis, depending on the individual needs and preferences. We also have a well-equipped physiotherapy area with various machines. In summary, we provide comprehensive services to support players' training and well-being. Furthermore, we have indoor courts, which are not common in Croatia. We have four covered courts during winter, and soon we'll have a final hard court that will be covered year-round. During the summer, we can open it on the sides to ensure it's not too hot.
Stan: That's impressive. Now, let's talk about your personal journey, from fleeing a war-torn country to Italy, achieving a career-high ranking of number three in the world, coaching players like Raonic and Federer, and now running your own academy. What does having your name associated with the Academy mean to you? Is this how you envisioned it?
Ivan Ljubicic: I'm definitely proud, but it also comes with a sense of responsibility. When you put your name on something, there's pressure and a great deal of responsibility. I'm comfortable when I'm on the court with someone, knowing I can do a good job. But when you have four, five, six, or seven coaches working under you, you need to share your vision, tennis philosophy, and ensure the quality of the work being done at the Academy. Even though I'm not always hands-on, I still feel responsible for the Academy's achievements. It has been an incredible and crazy journey to call this place my own and witness the joy and satisfaction of all the kids and people who come here to play tennis.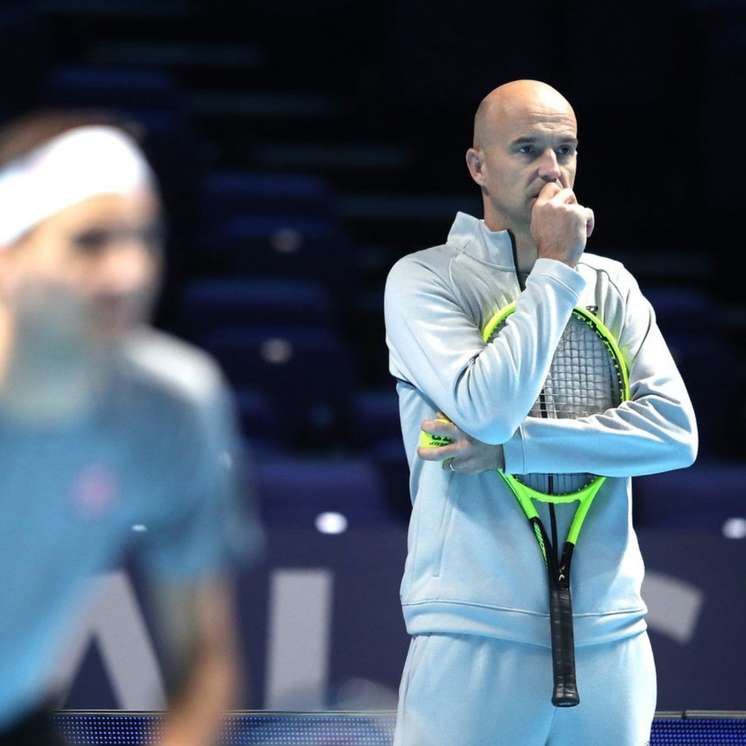 Ivan Ljubicic led Roger Federer to his last 3 Grand Slam titles in his illustrious career.Source: Ljubicic Tennis Academy
Stan: Indeed, I can see how involved you are in the training process. You're constantly on the court, supervising and overseeing everything.
Ivan Ljubicic: The court is everything to me. Throughout my life, I've been involved in various roles, from playing tennis to coaching, managing, and consulting. But when I step onto the court, it's a different feeling. It's where I feel like I truly belong.
Stan: Absolutely. Now, let's talk about your coaching team. You have an amazing group of people here, all highly involved and enthusiastic. How did you manage to bring this team together?
Ivan Ljubicic: Our head coach, Luka Cvjetkovic, has been with me for many years. He previously worked at the Piatti Tennis Academy for a decade. Vilim Visak, who coaches Marin Cilic when he's not with me, is also part of the team. He and his brother Mario, who is from the island, are coaches in our Academy and are available whenever we need them. Darko Klaic is the coach of Dino Prizmic, a top junior player in the world. Andrea Ilic from Belgrade is another coach we brought in. We also have fitness coaches Marko Škomrlj and Oskar Amančić, who work with Dino. As we continue to grow, we are actively looking for additional coaches. I want to bring in a bit of an international touch, not just Croatian speakers even though we've all had international experiences. I believe that diversity adds value. However, I'm very selective because I want to ensure we have the right people working under my name.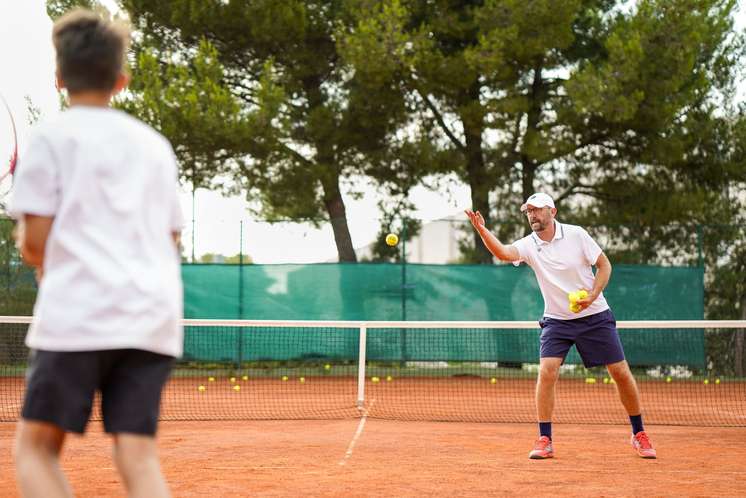 Luka Cvjetkovic, former coach of Jannik Sinner, is one of the main reasons young players want to train in Ljubicic Tennis Academy.Source: Ljubicic Tennis Academy
Stan: That's fantastic. Lastly, could you extend an invitation to the clients of tennis-academies.com? People are already starting to talk about your Academy, and we're excited about our partnership. We have adult and junior players interested. What would you say to them? What sets your Academy apart? Why should they choose to come here?
Ivan Ljubicic: To all the friends of tennis-academies.com, I invite you to come and visit us. There are no obligations or commitments. Simply experience it for yourself, go back home, and then let me know what you think. I'm truly proud of what we have achieved here and the energy, conditions, and lifestyle we offer. I believe you will love it. Give us a week, and I'm confident that we will exceed your expectations and make your dreams come true.
Stan: I couldn't agree more. Thank you very much, Ivan.
Ivan Ljubicic: You're welcome. Cheers!
If you or anyone you know is interested in training in Ljubicic Tennis Academy, please feel free to contact us at info@tennis-academies.com.