24 May 2023
Following the success of last year's tournament, which brought together leading ITF World Tennis Masters Tour players from around the world, this year's championships are expected to deliver another unforgettable experience.
The event will be hosted by the Croatian Tennis Association at the Ljubicic Tennis Academy, owned by former world #3 and coach of Roger Federer, Ivan Ljubicic. Men and women of all age categories (30+ to 90+) can compete in singles, doubles, and mixed doubles competitions, with special support from Croatian Tourist Board and Kvarner County Tourism Office who have made this event one of the most attractive on tennis map.
Aside from the coveted European Championship gold medal and 1000 ITF World Tennis Masters Tour ranking points, other aspects make this 'Open' event highly attractive to participants. Off-court activities, welcome gifts, and the players' party create a friendly and memorable atmosphere, while the chance to explore the stunning island of Losinj adds to the overall appeal for those looking to combine the competition with some tourism.
Ivan Ljubicic commented, "We are delighted to welcome the world's best senior players back to Veli Losinj. The players had a great time last year both on and off the court and I'm looking forward to seeing some more excellent matches at the Academy."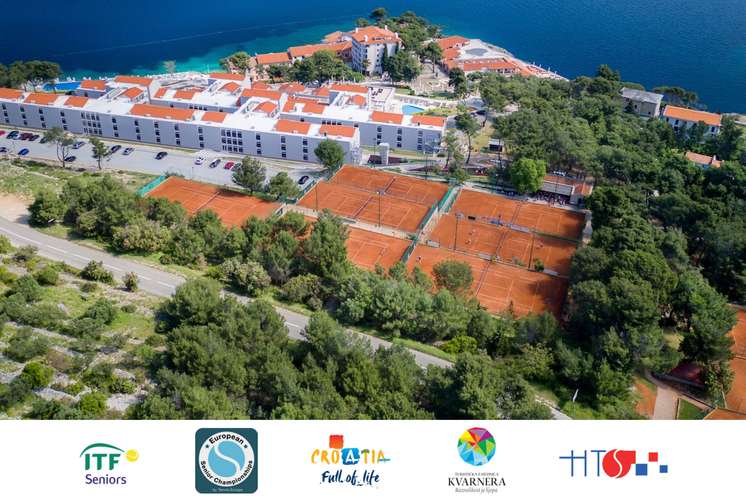 The European Senior Championships will return to Veli Lošinj, Croatia from 5-11 June.Source: Ljubicic Tennis Academy
Veli Losinj is a quiet and serene town located in the southeast of Losinj. Famous for its natural beauty, rich cultural heritage, and idyllic coastal town experience under the Croatian sun, it offers the perfect environment for relaxation. The town is easily accessible, with the nearest airports in Zagreb, Ljubljana, Trieste, Pula, Rijeka, and Zadar.
Click here to enter the 2023 European Senior Championships, and see the clip below for highlights from last year's competition: